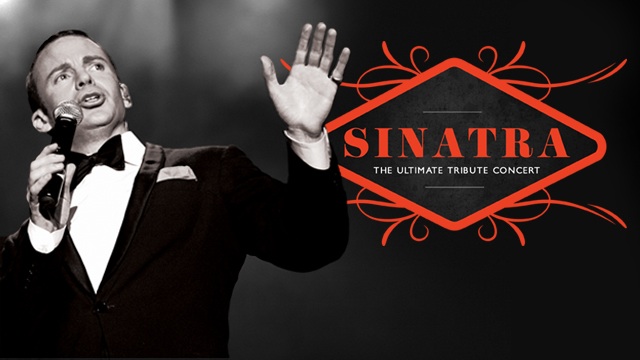 Brian Duprey's "Sinatra: The Ultimate Tribute Concert" delivers what Sinatra fans across the continent have been waiting for. An authentic recreation of Frank Sinatra in concert with every look, move, mannerism, and speech matched with the closest Sinatra singing voice in the world today. This article will tell you how Brian Duprey achieved this high level of excellence:
While attending Fairfield University in Connecticut, Brian Duprey started peforming informally with no intention of pursuing a career in music. Armed with a business marketing degree, Duprey worked for large corporations in several midwest cities while continuing to sing at weddings.
After relocating to the New York area, he decided to study with acclaimed jazz vocalist Carol Fredette in Manhattan. Visiting her apartment for his first lesson, Duprey discovered it was decked out with a cornucopia of Sinatra memorabilia. "She had every album, every picture," he marveled. "So I morphed into learning Sinatra 101, and she encouraged me to pursue this niche."
After 9/11, Duprey decided that "life is short," and he could always return to the business world. "So I packed up all my stuff on top of a beat-up '88 Volvo and drove to Las Vegas. It was a huge challenge, but a calculated risk. I decided I had some sort of advantage vocally over these guys doing the Sinatra thing."
His first real paying gig was in the main lounge at Caesars Palace. "It was quite a thrill to perform at a casino where Sinatra performed, you could almost feel his residual energy in the place." He later joined "Legends in Concert" tribute show and in 2006 was hired by the producers of 'The Rat Pack is Back' repretory company. During the past 10 years, Brian has peformed over 4,000 shows as Frank Sinatra. Brian jokingly comments, "I think I performed more shows than the real Frank!"
Looking remarkably like the young Sinatra, Duprey perfectly captures Ol' Blue Eye's mannerisms and phrasing in speech and song. Crooning some of Frank's standards, Brian is smooth as silk with "I Get A Kick Out Of You," "Fly Met To The Moon," and "Luck Be A Lady." Concluding the act, he delivers powerful renditions of Sinatra's classic favorites, "New York, New York," and "My Way."
It's easy to lose yourself in his performance right away. From the instant he steps onto the stage, not only do you become entranced by the iconic vocal sound, but after a few moments you seem to believe you are in the presence of Ol' Blue Eyes himself. So how does he create this transformation?
"I approach my performance as a method actor would. It's much more than just singing like him...it's like a switch is flipped in my mind and I unconciously change into his energy. Most of the time I don't even remember what I did on stage because I'm in a zone."
The Performing Arts Theater and Casino marketplace is changing annually, and there are a number of Sinatra shows out there. Fortunately, Brian Duprey's "SINATRA: The Ultimate Tribute Concert" has them all beat. I would call it "disruptive talent." He changes the way we think of Sinatra Tribute shows, acheiving the mere impossible goal of bringing Sinatra back to life. Even if it's just for one night!